It's time to move on! My Sibling® and My Pal Dolls® will no longer be sold by creator Loretta Boronat. Thank you for being such wonderful customers over the years!
You can purchase the dolls and clothing from Heather Beatty at Dandelion Dream Dolls. If you have questions, you can e-mail her at DandelionDreamDolls@gmail.com or call her (toll-free) at 1-888-291-DOLLS (3655).
I couldn't have found a better person to carry on the love for boy dolls that we started here at MySiblingDolls.com! You will still be able to give your children the opportunity to "Care, Learn and Have Fun" through play with their boy dolls! Sincerely, Loretta D. Boronat, creator of My Sibling® and My Pal® Dolls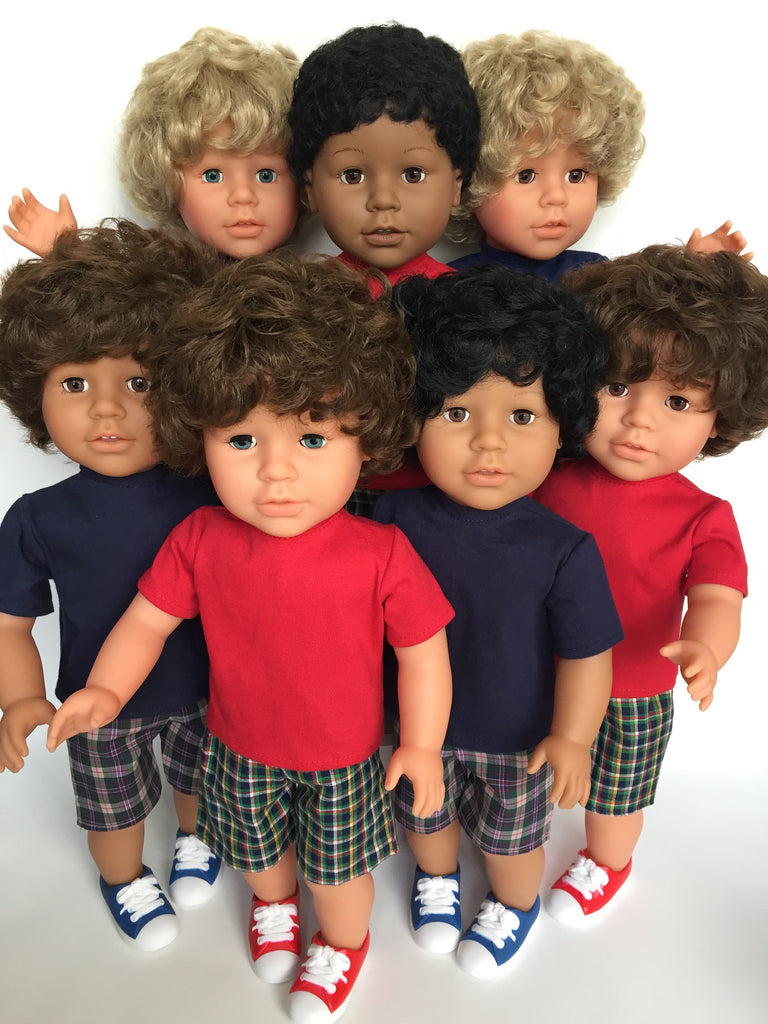 18 inch boy doll - NEW - My Pal and Me - 14 choices - DIY and save! - option 1
RED and BLUE T SHIRT OUTFITS SOLD OUT.  
DO IT YOURSELF AND SAVE!  Our newest boy doll collection offers many choices and great prices!
Follow these simple steps to make your doll your own:
1.  Choose the OPTION 1 shorts outfit that will come with your undressed doll from the drop-down box that goes with the choice of doll - see number 2.  . 
navy blue plaid shorts, red t-shirt, red slip-on sneakers
green plaid shorts, navy t-shirt, blue slip-on sneakers
2.  Choose your boy doll by selecting the combination of hair, eye and skin color from the drop-down box.
SEVEN

dolls with different hair, eye and skin color combinations are available - see drop-down box for choices.
3. Check out!  It's so easy. No discount codes to remember, same prices always.  
The choices are yours and the prices of the dolls in this collection are rock-bottom, making it so easy for you to get exactly the right color combination of your doll's features AND the clothing you are seeking.  
These dolls are not outfitted by us, nor the adults with disabilities who work with us.  Rather, the outfits are packaged with your undressed My Pal doll and you do the rest!  This way, we can offer the dolls in this collection for such a great price!
We know you will have lots of fun making all the choices - that's why we call this boy doll My Pal and Me!  
PLEASE NOTE:  The dolls in this collection are not included in any special sales or discount codes.  
Additional shorts sets and other outfits are available in clothing and accessories collection.