It's time to move on! My Sibling® and My Pal Dolls® will no longer be sold by creator Loretta Boronat. Thank you for being such wonderful customers over the years!
You can purchase the dolls and clothing from Heather Beatty at Dandelion Dream Dolls. If you have questions, you can e-mail her at DandelionDreamDolls@gmail.com or call her (toll-free) at 1-888-291-DOLLS (3655).
I couldn't have found a better person to carry on the love for boy dolls that we started here at MySiblingDolls.com! You will still be able to give your children the opportunity to "Care, Learn and Have Fun" through play with their boy dolls! Sincerely, Loretta D. Boronat, creator of My Sibling® and My Pal® Dolls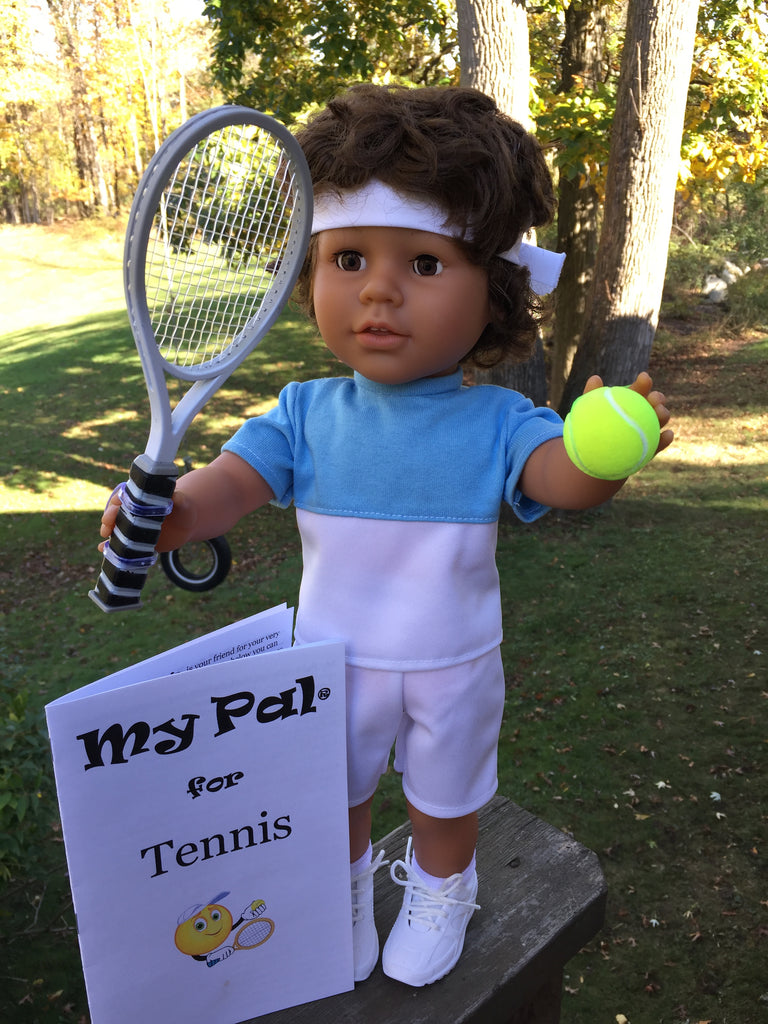 18 inch boy doll - My Pal for Tennis
18 inch boy doll with brown hair, brown eyes and medium skin has soft body and pose-able plastic head, arms and legs. Hair is rooted.
white tennis shorts
white and light blue tennis t-shirt
white socks and sneakers
white headband
doll size tennis racquet 
Complete with 8 page booklet:  My Pal for Tennis
doll clothing and booklet - Made in the USA.
My Pal for Tennis, an 18" boy doll comes with an 8 page booklet in which children can write about their love for tennis, their experiences with playing tennis, or watching their favorite player. Information is also provided about some famous players, and the four major "grand slam" tournaments. 
My Sibling and My Pal Dolls were groomed, outfitted and packaged by adults with disabilities in a local extended employment program until early 2020.  Due to the pandemic, my program had to be closed down for the foreseeable future.  In the interim time my adult son who has autism and I have been doing the work.