It's time to move on! My Sibling® and My Pal Dolls® will no longer be sold by creator Loretta Boronat. Thank you for being such wonderful customers over the years!
You can purchase the dolls and clothing from Heather Beatty at Dandelion Dream Dolls. If you have questions, you can e-mail her at DandelionDreamDolls@gmail.com or call her (toll-free) at 1-888-291-DOLLS (3655).
I couldn't have found a better person to carry on the love for boy dolls that we started here at MySiblingDolls.com! You will still be able to give your children the opportunity to "Care, Learn and Have Fun" through play with their boy dolls! Sincerely, Loretta D. Boronat, creator of My Sibling® and My Pal® Dolls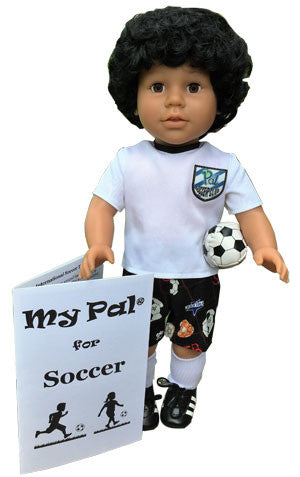 18 inch boy doll - My Pal for Soccer
18 inch boy doll with curly black hair, brown eyes and medium skin, has soft body and pose-able plastic head, arms and legs. Hair is rooted..
black cotton soccer print shorts w/elastic waist
white shirt has emblem "My Pal Soccer Club"  w/velcro-like closure in back
black soccer cleats 
white knee high socks
soccer ball - not appropriate for children under 3 years
Complete with 8 page booklet: My Pal for Soccer
doll clothing and booklet - Made in the USA.
My Pal for Soccer is a buddy for children who love soccer. In the educational booklet that comes with this boy doll, children can learn about the parts of the soccer field, the positions of the soccer players, and facts about soccer teams that play in the World Cup competition.  There are also pages on which children can write about their experiences playing or watching soccer, and their love for the sport.
My Pal for Soccer is dedicated to Nick Tanelli and his family.  
My Sibling and My Pal Dolls were groomed, outfitted and packaged by adults with disabilities in a local extended employment program until early 2020.  Due to the pandemic, my program had to be closed down for the foreseeable future.  In the interim time my adult son who has autism and I have been doing the work.