It's time to move on! My Sibling® and My Pal Dolls® will no longer be sold by creator Loretta Boronat. Thank you for being such wonderful customers over the years!
You can purchase the dolls and clothing from Heather Beatty at Dandelion Dream Dolls. If you have questions, you can e-mail her at DandelionDreamDolls@gmail.com or call her (toll-free) at 1-888-291-DOLLS (3655).
I couldn't have found a better person to carry on the love for boy dolls that we started here at MySiblingDolls.com! You will still be able to give your children the opportunity to "Care, Learn and Have Fun" through play with their boy dolls! Sincerely, Loretta D. Boronat, creator of My Sibling® and My Pal® Dolls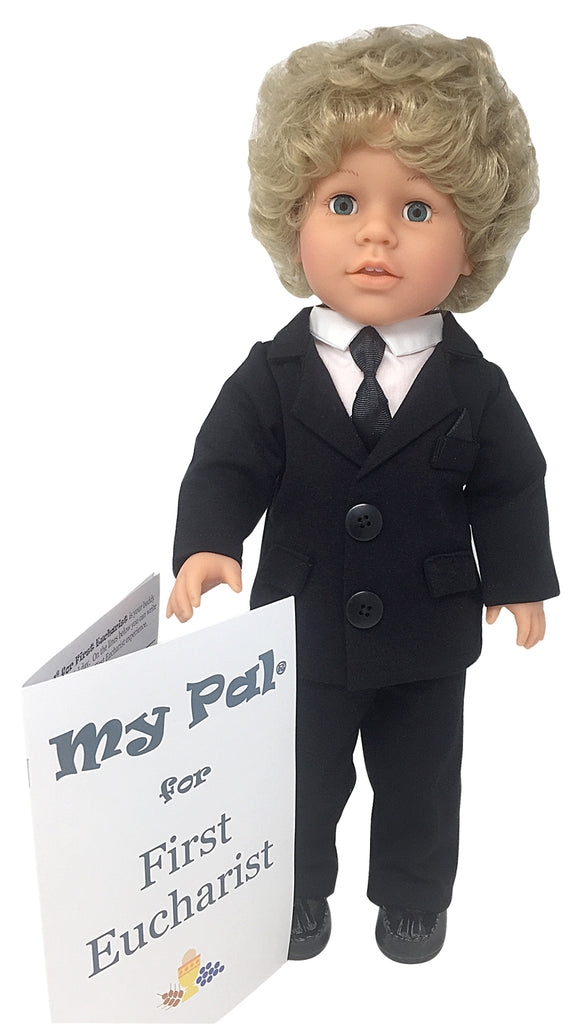 18 inch boy doll - My Pal for First Eucharist - 6 choices
Doll with

dark

skin and

black

hair is sold out.
18 inch boy doll with choice of hair, eyes and skin color. Doll has cloth, fiber-filled body with pose-able plastic head, arms and legs. Eyes open and close, hair is rooted.
4 piece suit includes: tailored suit jacket with coordinating pocket square, matching suit pants, white shirt with attached coordinating tie, black dress loafers
Complete with 8 page booklet:  My Pal for First Eucharist 
booklet - made in USA
My Pal for First Eucharist  For many years, Loretta Boronat designed and made miniature First Communion dresses and veils for 18 inch girl dolls as lovely gifts for little girls who were making the sacrament and wanted to share their special  day with their dolls. The increasing interest in what she was making inspired Loretta to create her own doll characters, new clothing designs, and a line of boy dolls as well! She wanted to make it possible, by producing more affordable dolls and including boy dolls in the product line, for more children to be able to have an 18 inch doll to call their own.  
In the booklet that comes with each My Pal for First Eucharist doll, children can write a story about their sacrament and all the experiences they had on their special day. Then, looking back when they are grown, children may treasure the story they wrote, because it will help them to remember all the blessings of the occasion.  The booklet also includes two pages of prayers that children usually learn when they are of age to make their First Communion.
My Sibling and My Pal Dolls were groomed, outfitted and packaged by adults with disabilities in a local extended employment program until early 2020.  Due to the pandemic, my program had to be closed down for the foreseeable future.  In the interim time my adult son who has autism and I have been doing the work.